At Monrio, audio equipment manufacturers and lifelong music enthusiasts, we continue our philosophy of offering affordable audio products with high quality musical performance. So we wanted to convey our thoughts also in the creation of the new entry-level TR1 turntable with an excellent quality / cost ratio. We are absolutely in love with vinyl and the music that can only be reproduced by playing records.
Vinyl is a stable, long lasting, and widely available medium. At Monrio, we believe that if you're a true music lover, no audio system is complete without a turntable. The plinth is in MDF with a heavy aluminium platter for perfect rotation stability. 33/45 electronic speed change. DC synchronous motor with external adapter. In the TR1 the motor drives a belt-system, attached to a newly designed sub-platter, which is mounted into an ultra-precise main bearing with a hardened steel axle and brass bushing. The purpose-chosen turntable feet also do a good job of isolating the TR1 from ambient vibrations around your hi-fi system.
The tonearm is wired by ultra phin Cardas Litz wires. The TR1 comes with a pre-adjusted Audio Technica AT3600 Moving Magnet cartridge and is ready to use right out of the box.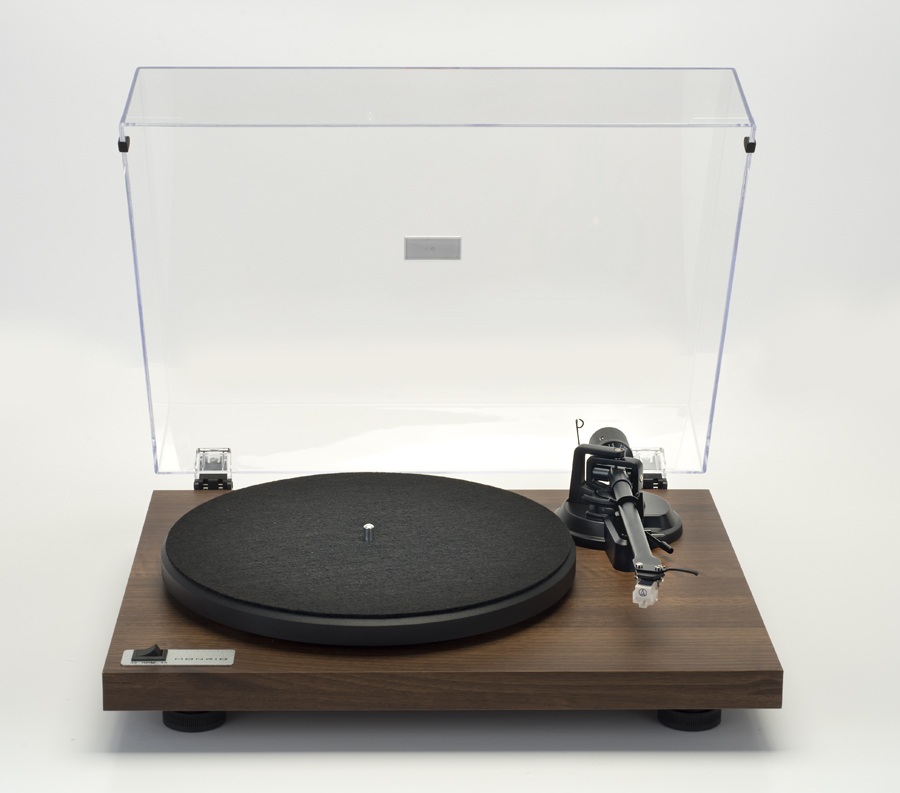 Technical Specifications
Nominal speed 33 / 45 r.p.m. (electronic speed change)
Drive principle Belt drive
Record weight yes
Platter Aluminium with felt mat
Mains bearing Stainless steel
Motor DC synchronous
Connection RCA jack
Plinth MDF
Feet Antivibration Rubber
Power Supply 12 VDC/0.5A outboard P.S.
Connector RCA Gold Plated
Tonearm 9" Aluminium Black or Silver Finish
Headshell Fixed
Wow and Flutter > 0.15%
Cartridge Supplied Audio Technica AT3600L
Signal to Noise: 55dB
Mains Power Supply 110-120V, 220-230v, 50- 60 Hz
Dimension 446 x 120 x 365mm (WxHxD)
Weight 7.5 Kg.(packed)
Audio Technica AT 3600L Specification
Output voltage: 4.2mV
Frequency response: 20Hz-20kHz
Channel balance: 1.5dB
Channel separation @ 1kHz/10kHz: 24/15dB
Tracking force: 2.5 – 3.5 g
Stylus type: Conical diamond
Stylus construction: Bonded round shank
Weight: 5.7 g.